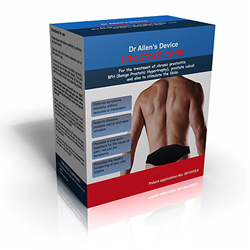 London, UK (PRWEB) December 03, 2013
Thermobalancing therapy is able to reverse benign prostatic hyperplasia (BPH) and treat chronic prostatitis harmlessly, so men with these prostate problems should use Dr. Allens Device for Prostate Care in the first place. In contrast, according to the article Study: Ureteral injury during robot-assisted prostate surgery, of November 19, 2013, researchers at Henry Ford's Vattikuti Urology Institute note that there is a possibility to damage part of the urinary system during robot-assisted surgical removal procedure, Fine Treatment reveals.
Any prostate removal procedure may harm, and the risks are often downplayed. So it makes perfect sense for patients with BPH or chronic prostatitis to start with Dr. Allens Device, which is able to treat non-malignant prostate problems naturally, comments Dr. Simon Allen.
Don't rush into a prostate operation… it could be the worst thing you do article in Daily-Mail quotes Dr. Chris Parker warning: Almost all men who have their prostate removed will suffer complications whether thats just slight incontinence, or the permanent erectile dysfunction experienced by around one in two.
Complications after prostate surgeries can horrid indeed. Read, for instance, the views men share openly on Mens-Health Forum on Retrograde Ejaculation after Prostate Surgery. One message says, I was misled by my doctor in 2009. Expected one thing and was incontinent for 2 years after TURP. No warning from the doctor. No preparation. Impotency at times followed a few months after the surgery. No more ejaculation. Another post states, I'm 44 male, 8 months ago I had Holap operation for BPH and still now I'm living a nightmare. Do not touch your prostate. The annoying symptoms you have now are nothing compared to what you have after surgery. Read more at http://forums.menshealth.com/eve/forums/a/tpc/f/789103123/m/4511089962
In contrast, Dr. Allens Device for Prostate Care can help to terminate prostate enlargement without any of the risks associated with other treatments. The Thermobalancing therapy simply cleanses the prostate gland by improving the blood circulation inside this organ over time. Here you can watch a short informative: http://www.youtube.com/watch?v=V5xidswhxJM.
Men should be well informed about serious complications linked to prostate surgeries, no matter how fashionable these may be at present, including laser and robotic procedures, notes Dr. Allen. Thermobalancing therapy enabled by Dr. Allens Device for Prostate Care can help to terminate and gradually reverse the process of prostate enlargement and treat chronic prostatitis without causing any damage.
For details, visit Fine Treatment at http://finetreatment.com/bph-treatment-prostate-enlargement.
About Dr. Simon Allen and Fine Treatment:
Dr. Simon Allen, MD, PhD, Academician, member of ATA, is a highly experienced medical professional. His specialty is in the internal medicine. He has treated a wide range of chronic diseases, including patients after a heart attack, with kidneys problems, including kidney stones disease, prostate and spine conditions, as well as metabolic disorders. Fine Treatment exclusively offers Dr Allens devices for chronic prostatitis and BPH treatment, coronary heart disease, dissolving kidney stones, as well as back pain and sciatica relief.